Be ready for what lies ahead…
21st Century Edge is a leading edge health care management consulting firm specializing in pain management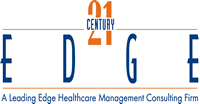 21st Century Edge is one of only a few management consulting firms in the nation with pain management expertise. Our consultants can help you to create or transform your pain management practice into a cost-effective, efficient, and profitable business.
What would you like to do?
Keep in Touch
21st Century Edge eNewsFlash! is a tool that gives you powerful information via email on how to increase revenue, decrease cost, and better manage your pain practice. Each issue features an article that you can immediately use in your practice.